How can the corona virus spread through bathroom pipes? Experts are investigating in Hong Kong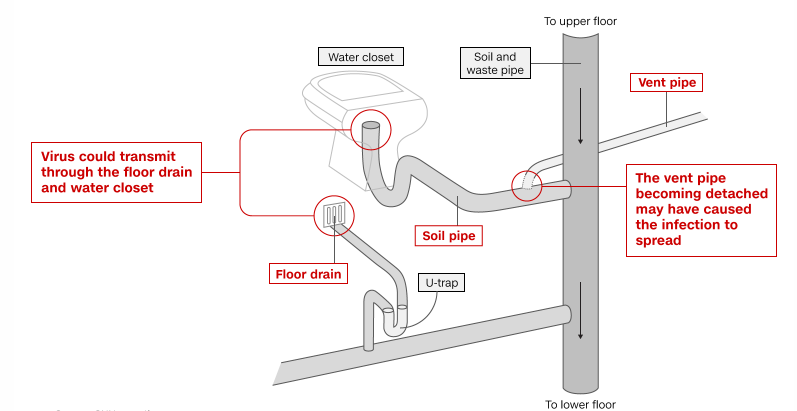 What does that mean?
Every toilet, sink and floor drain has a U shaped pipe, which prevent sewage gases from entering the home and allows water and odours to escape. To work properly the U-shaped pipe, also known as the trap, needs to hold water in its bend. These pipes connect to the outside drain which also connects with everyone else's main drain. The U shaped pipe or what you call the trap must be full of water, this is to prevent any odours or discharge from entering the indoor environment, especially while the extraction fan in the bathroom is turned on.
How to fix this problem?
Firstly, always use a licensed reputable plumber. Second you must make sure your U pipes or traps are holding water, you can check this by shining a torch down your shower drain or floor drain to make sure its holding water. If you can hear water gurgling in your drains this may indicate you have a partial blockage which can cause the water seal in the U pipes or traps to siphon out. In this case you will need to call a plumber to repair and unblock the drain.
For more help and tips please call Service Today on 1300 723 649
Content reference:- https://edition.cnn.com/2020/02/12/asia/hong-kong-coronavirus-pipes-intl-hnk/index.html